Flying Sites
We fly at a number of sites around the Puget Sound. In the winter we have monthly club meetings at the Kirkland Middle School. Check out this informational video about our flying sites:
60 Acres Park (North and South), Redmond WA
14900 NE 116th St Redmond,WA 98052
Description:
Location 60-Acres Park South, Redmond, Washington (~14900 NE 116th St). From Interstate 405 (I-405) take the 124th Street (not Avenue) NE exit at the Totem Lake Shopping Center near Kirkland, north of Bellevue. Proceed east on 124th to Willows Road NE (about 1 mile) and make a left at NE 116th St. NE 116th will take you between 60 Acres North (on the left) and South (On the right.) The parking area for 60 Acres South is the SECOND parking lot on the right after you cross the bridge. Google Map shows some more details, and zoom)
See the top of the page for an orientation video.
Carnation Farm, Carnation WA
28785 NE Carnation Farm Rd Carnation, WA 98014
Description:
Carnation Farm is SASS' summer home! Acres of flying area for Sailplanes only! SASS membership is required and property is protected by a locked gate. Complete your membership package to receive gate codes. AMA and SASS safety rules are strictly enforced.
See the top of the page for an orientation video.
Notes on RV Camping:
There will be no RV parking by the Cattery, all RV Camping will be in the designated areas marked on the maps. Vehicles over 19ft are restricted from driving across the field and will need to park close to the road, See map.

Camping Policy - please read.
MEMBERSHIP APPLICATION Map to the field
Lincoln Square South
Club meetings are sometimes held at Lincoln Square South, in Bellevue.
10400 NE 4th St, BELLEVUE WA 98004
Map
Here is a map of the property. The room is in Lincoln Square South (LSS) at the lower right hand corner of the map. If you look closely, you see the little blue triangles with P inside that shows the parking lot entrance off 105th Ave NE, just N of NE 4th. Park anywhere in LSS and take elevators up to the 2nd floor. Head south through the "Lincoln South Food Hall", go through the office elevator lobby and take a left. We'll be in the very South East corner of the 2nd floor in whats labeled "The Collaboration Center". Parking is free as long as you leave after 8pm.
Kirkland Middle School
No event found
430 18th Avenue, Kirkland, WA, Room 231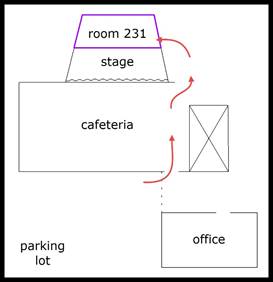 Click here for a map!
Take the NE 85 st Exit in Kirkland off 405.

Turn right at 6th st

The road will curve to the left after about 10 blocks.

As the road begins to straighten again take a right turn on 5th Pl

Turn Left on 18th.

The school parking lot is on the right.
Randy's Restaurant, Boeing Field - In Memoriam
Randy's was a living part of Seattle, Boeing and aviation history. It's packed wall-to-wall with model airplanes, aviation books and magazines, and historical memorabilia. Sadly, Randy's closed in 2020 and the building, a former Denny's, has been torn down.. It will be missed.
King 5 Story
10016 E Marginal Way S, Tukwila, WA 98168
Discovery Park (Seattle)
4400 W Emerson St. Seattle WA 98199
Description:
Classic Seattle sloping at its beautiful/stormy best!
Here's a Google map of where we fly. Its where the sand cliff drops off to a bit of a slope....
Map

and here are the places to look for winds. You'll want a south to southwest... or even westerly...
This weather station is right on the tip of the park, down by the lighthouse, so its usually pretty good as well:
http://www.ndbc.noaa.gov/station_page.php?station=wpow1
Eagle Butte


15100 South Grandview Lane Kennewick WA 98239


Description:
Eagle Butte is no longer open for soaring; for more info on pacific northwest sloping check out this
RCGroups thread
Ebey's Landing
499 S Ebey Rd Coupeville WA 98239
Description:
Ebey's Landing
Fort Ebey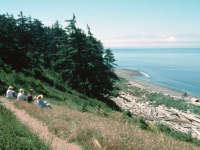 Coupeville WA
Description:
Slope site located on Whidbey Island, takes SW to NW winds.
Kiona Butte
1 N McBee Rd
Benton City
WA 99320



Description:
Kiona is a premier slope site in Eastern Washington near the Tri-Cities Area. With scrub grass and tumble weed for landing areas and a commanding view of the Yakima River Valley, this site is not to be missed! Kiona takes a generally northerly wind... but if its blowing from the south, Kiona's sister slope Eagle Butte takes a southerly, and its only a few miles away!
Also nearby is a DS site for Southerlies called Chandler Butte (see map).
Magnuson Park
7400 Sand Point Way NE Seattle WA 98115
Description:
Magnuson Park, the former Sand Point Naval Air Station, is located on Lake Washington in Northeast Seattle.
Directions are available here: http://www.seattle.gov/parks/magnuson/directions.htm
https://maps.google.com/maps/ms?msid...05627,0.009484
We are flying on fields 10, and 11. A Map of the park with the fields is available http://www.seattle.gov/parks/magnuson/maps.htm
The fields may be reached either through parking lot W6, or though a gate on Sports Field Drive. Note that there is NO PARKING On Sports Field drive.
To get to lot W6, enter at the main gate, at NE 74th St. Cross 62nd Av NE. The lot will be on the right, and the field is on the South side of the lot.
To get to Sports Field Drive, enter at the main gate, turn right on 62nd Av NE. Go south past the Magnuson Community Center, then left into the driveway. Go through the parking lot and turn right on Sports Field Drive. The gate is about a block South. There is no parking on Sports Field Drive, but limited parking is available in the lot behind the Community Center.
Museum of Flight (Seattle)

9404 East Marginal Way S. Seattle WA 98108


Description:
The Museum of Flight is a must see if you're in Seattle. SASS participates in events such as the Soaring Expo.
Plan your visit to the Museum of Flight.